Saturday 12th August 2023
Since the start of the Feakle Festival, Seamus Begley has been adopted into our musical family in Feakle. Seamus' presence in our village was always a highlight for all. From some of the most memorable concerts in Smyths hotel, Gala concerts with his dear friends and family and to the late night sessions full of fun and revelry. This special night will celebrate Seamus' contribution to traditional music and song with his family and friends.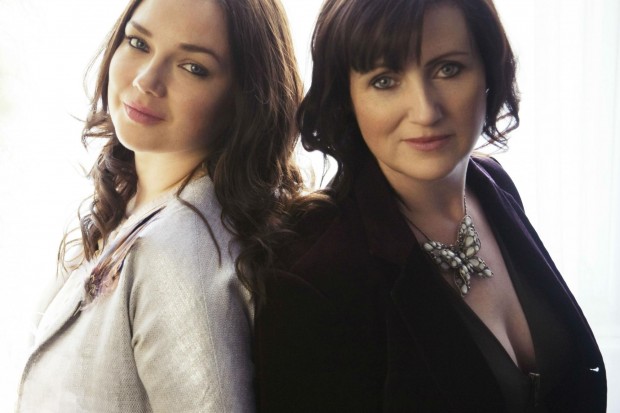 Lumiere is an Irish group consisting of two fine female voices, Éilís Kennedy and Pauline Scanlon. Both of them come from the small Kerry town of Dingle. Their voices coalesce to form a listening experience second to none and thus, Lumiere is formed. As a duo, Lumiere takes something that is sacred and age old and re-imagines it simply and beautifully, reclaiming beauty, truth and trust, for the modern age.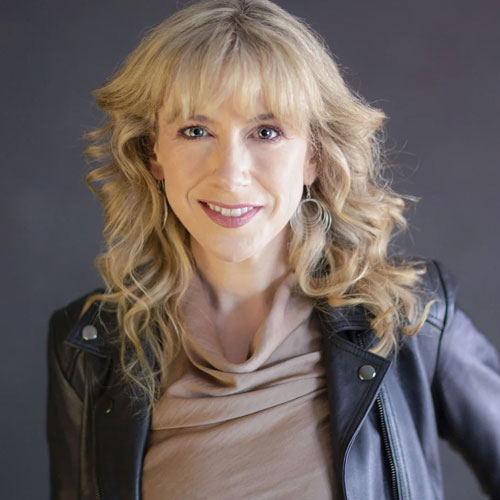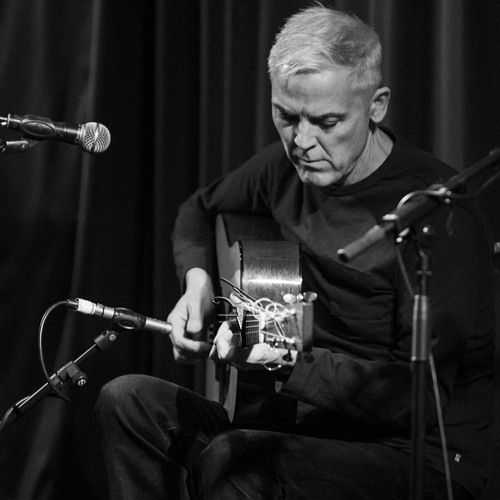 Muireann Nic Amhlaoibh & Donagh Hennessy
Muireann Nic Amhlaoibh is a multi-award winning traditional singer and musician from Corca Dhuibhne, West Kerry. Muireann is a leading exponent of the sean nós style, and loves to engage with audiences to share her love of the Irish song tradition. Her childhood in West Kerry saw her immersed in a rich cultural environment and vital living tradition. This was to be hugely influential on the foundation of her distinctive vocal and instrumental sound. Muireann has enjoyed a successful career as a touring artist, with over thirteen years experience as lead singer and flute player with the Irish traditional supergroup Danú, as well as many years performing as a solo artist.
Muireann will be accompanied by guitarist Donogh Hennessy who is best known as the former guitarist in Lúnasa.It is through Lúnasa that some of Hennessy's compositions have become known and they are often played by the younger generation of traditional musicians. He has performed and recorded with many leading Irish bands/artists, including Sharon Shannon, Lumiere, John Spilanne and the late Seamus Begley.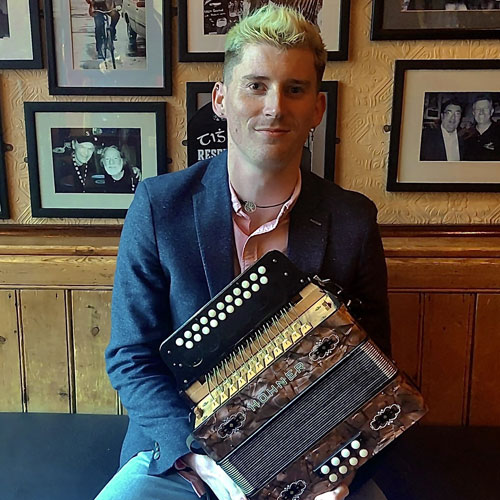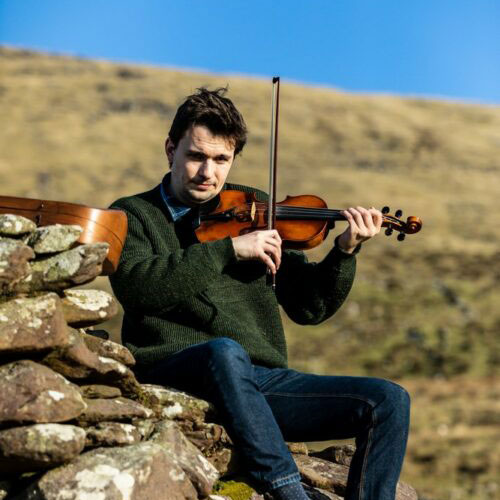 Conor Connolly, Andrea Palandri & Ruairi McGorman
Accordionist Conor Connolly from County Galway epitomises the South Galway style of music. The talented musician and singer's music transports you back to the era of the legendary music of Joe Cooley and the late Joe Burke. Conor was awarded the title of "Young Musician of the Year" in TG4's Gradam Ceoil Awards 2019.
Conor will be joining forces with his good friend Andrea Palandri. Andrea was raised in London until the age of nine and in Venice until the age of nineteen. He began visiting Ireland in his teens and developed a particular interest in the fiddle playing of Paddy Cronin, Denis Murphy and in the bowing techniques taught in the manuscripts of Pádraig O'Keeffe. Andrea has performed at numerous events both in Ireland and abroad since moving to Ireland in 2014.
The pair will be joined by Ruairi McGorman who is an established Greek bouzouki & fiddle player from Ratoath in County Meath. Growing up in a musical family, Ruairi was exposed to traditional music from a very young age, with his mother being flute player Catherine McEvoy and his entire family being accomplished musicians.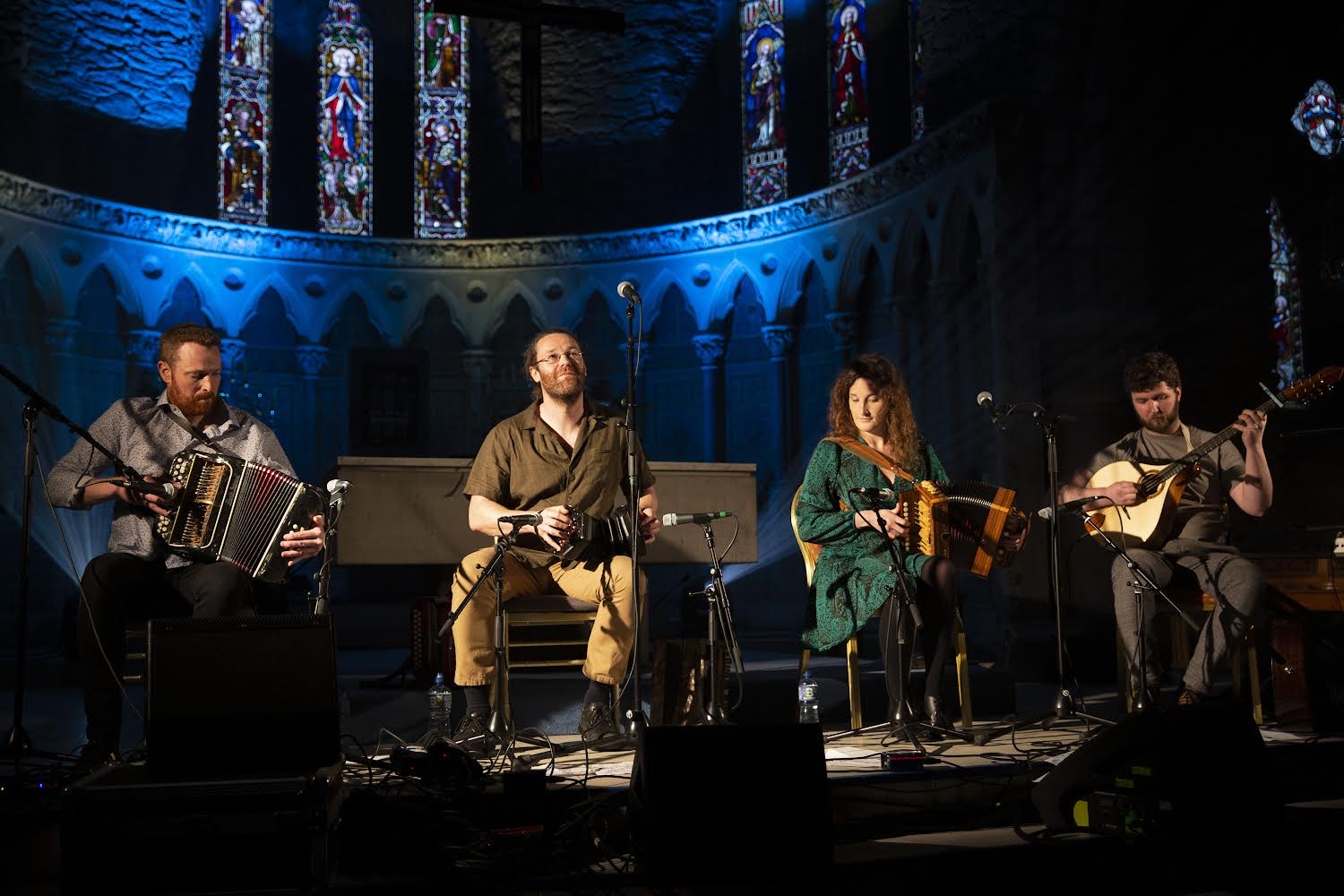 Meabh, Eoin & Níall Begley
The Begley family are no strangers to Feakle. Méabh Begely is a singer, songwriter and musician whose musical expression and stylings are deeply rooted within the Irish music, language and song tradition of her homeplace of Corca Dhuibhne, the Gaeltacht of West Kerry, Ireland.
Meabh will be joined by her two brothers Eoin and Níall. Eoin is an established concertina and accordion player along with Niall who plays the accordion, where they both carry on the family tradition while bringing their own style to the famous Kerry slides and Polkas. They all began playing music at a young age and have been greatly influenced by their father Séamus Begley.
We are also looking forward to welcoming the West Kerry Set Dancers to Feakle where they will raise the floor with their infamous west Kerry steps.
Time: 7.30pm
Venue: St. Mary's Church
Admission: €30